Full Name: Ru Kountz
Race: Liger/Panther Hybrid with a hint of demon.
Age: 2 year
Gender: Female
Height:
2.5 ft (Fore-Paw to Head)
4.5 ft (Standing on hind legs)
[and still growing.]
Weight: 700+ lbs.
Physical Description: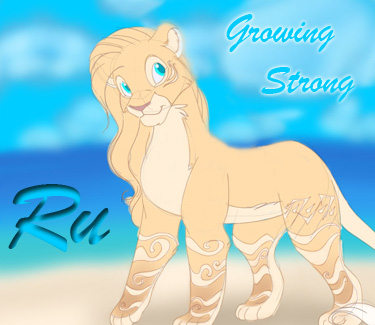 Special Talents: She hasn't discovered them yet. But she does have magic brewing through her veins thanks to her mother and her father.
Personality: Stubborn, Trouble-Maker, Cuddly with a full stomach, Cranky when hungry or woken up too soon.
Family:
Cassie - Mother
Rose - Adopted Mom
Mariah - Adopted Sister
Neo - Brotherly feel.
Past:
The cub was born just a year ago; and was taken in by a guard named Rose when her own mother passed away giving birth to her. She grew up around the guard house and the sanctuary (where Mariah worked); and when she would escape the two locations she would run into a boy named Neo on a number of occasions and play with him. When she was old enough to wander the lands on her own she took up on the job of being a guard as well, but only as a scout. Some time has passed, and the cub wandered off from her homeland without a word. Something had pulled her away and towards the new, unaware of where she is going.